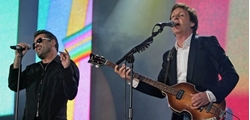 Sir Paul McCartney has been pretty prolific in the making music department over the past six decades.
But surprisingly, he hasn't recorded as many duets with other artists as often as you might think.
Every now and then, he has teamed up with some of the world's greatest, and here's our very favourites.
1. 'The Girl is Mine' (with Michael Jackson)
Perhaps surprisingly, this pop ballad was the first single to be taken from Michael Jackson's Thriller.
This song features the pair fighting over the same girl. She clearly has no particular type! Jackson said it was "one of my favourite songs to record" as there was "lots of playing, and throwing stuff at each other, and making jokes." Many members from Toto also took part in the recording.
2. 'Ebony and Ivory' (with Stevie Wonder)
OK, this one might be a bit on the sickly sweet side, but come on, it's a classic!
It is a self-empowerment anthem that tackles issues of racial equality, and it reached number one on both the UK and the US charts. The title was inspired by McCartney hearing Spike Milligan say "black notes, white notes, and you need to play the two to make harmony, folks!".
Source: smoothradio.com