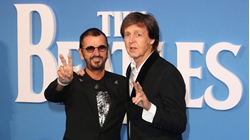 Meat and liquor may soon be prohibited in the Indian cities of Ayodhya and Mathura.
According to the Hindu, the Uttar Pradesh government is contemplating a total ban on alcohol and non-vegetarian foods in Ayodhya – the birthplace of Rama, the seventh avatar of the Hindu god Vishnu. The items may also be banned in Mathura, the birthplace of Lord Krishnu, the eighth avatar of Vishnu and a major deity in Hinduism. Following the ban, the cities could then be declared areas of pilgrimage.
According to Uttar Pradesh's minister Shrikant Sharma, the move is being considered in response to calls from seers and millions of devotees.
"Honouring their demands, the State government is working to declare the area around 14 Kosi Parikrama Marg in Ayodhya and the birthplace of Lord Krishna in Mathura as pilgrim centres," Sharma said in a statement. "Once this happens, a ban on the sale and consumption of non-vegetarian food and liquor will automatically come into effect."
Source: Jemima WebberWriter /livekindly.co