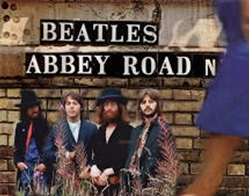 The Beatles' 1969 album AbbeyRoad has gone on to become a defining moment in the illustrious career of one of the greatest bands to have ever walked the planet. It is one of the band's rockiest records but it is on their isolated vocal that the album's power shines through.
It was the band's eleventh studio album and saw the Fab Four incorporates genres such as blues, rock and pop, and also makes prominent use of Moog synthesizer, sounds filtered through a Leslie speaker, and tom-tom drums. But the most fascinating part is the band's varying vocals.
One thing that The Beatles have that most other bands could only hope for. The band had not only a group of quality musicians but of expert songwriters and wonderful singers. An iconic record on The Beatles' roadmap, least of all because of its album artwork, it was another moment of creative elation as all four members took the wheel of the Yellow Submarine for a turn or two.
In the video below, brought to us by Leonardo Barbieri, we get to experience Ringo Starr, Paul McCartney, John Lennon and George Harrison all bring their songs to fruition. By stripping back the music and listening to their vocals alone, the connection each of the band had to their songs becomes clearer.
Source: faroutmagazine.co.uk