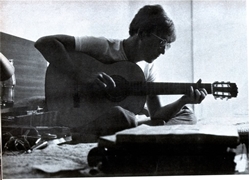 In 1971, early one morning on a Steinway piano on his resplendent Berkshire estate, John Lennon reflected on the seismic uprising of a peaceful counterculture, of united students and workers, which could have scared a thousand kings by reviving the egalitarian ideals of the 1871 Paris commune.
Against this raw new zeitgeist, and against the backdrop of uprising in America, he sung, famously, to the times: "imagine all the people... living life in peace." Of all the memorable, piquant and mordant comments he made, that one is the one which has most transcended time; everybody is touched by those words with their beauty time can not erase with the bludgeon of her years. They are words worthy of being spelled across the stars.
Moreover, as a form of acknowledgement of the critical influence of the radicals on the febrile atmosphere of protest worldwide, he hailed, in the song's middle eighth, with an equally breathtaking lyricism: "you may say I'm a dreamer... but I'm not the only one," paying heed to a fresh generation of activists who had proclaimed an era of permanent struggle, a species of rebellion in which intellectual renegades like John and themselves saw possibilities for the collapse of the system of domination today.
By: Megan Sherman
Source: Huffington Post