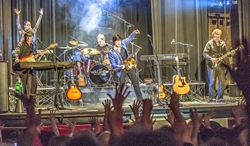 If you've had "A Hard Day's Night," and "All You Need Is Love," then give a "Shout" because "Help!" is on the way! The McCartney Project, America's No. 1 live concert tribute to Paul McCartney, Wings and The Beatles, takes center stage at the Athens Theatre in DeLand, for one night only, at 7:30 p.m. Thursday, Feb. 7.
The McCartney Project covers more than three decades of the most popular Beatles chart-toppers, through the monster hits of Wings, and more.
Each song replicates the authentic, iconic sound of Paul McCartney's music. This is a fun, high-energy show, from the opening song through the closing encore. This family-friendly concert is a wonderful opportunity to introduce the kids or grandkids to Sir Paul's unforgettable music.
Leading The McCartney Project is Tony Burlingame. He has been paying tribute to Paul McCartney for years, and bears an uncanny resemblance. His voice, mannerisms, and left-handed bass-playing, along with the very talented McCartney Project Band, deliver the ultimate McCartney experience.
Source: GLENN PINE/beacononlinenews.com