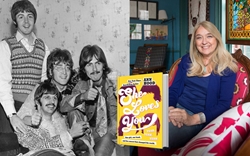 It's the 50th anniversary of the release of the White Album (officially titled The Beatles) and the 1968 film Yellow Submarine. Celebrate the world's love for the Beatles with this exclusive essay from author Ann Hood.
I fell in love for the first time on February 9, 1964. Like all first loves, this one hit hard—the racing heart, the weak knees, the way that everything around me seemed to disappear except me and the shaggy-haired, brown-bedroom-eyed boy singing to me. When he told me, "Darling, I'll be true," I believed him. I was 7 years old, and that winter night, I knew that someday I would grow up and marry Paul McCartney.
I was the kind of kid who liked to memorize things—the birthstone for each month, the astrological signs and state capitals. I used that same determination to learn everything I could about Paul. Most of my facts were gleaned from magazines like Teen Talk and 16, so the veracity of much of what I learned was shaky. But he really was, of course, from Liverpool, England.
Source: Parade