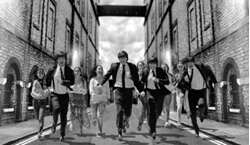 Almost everyone knows that The Beatles are one of the most acclaimed bands in rock and roll history because their music has the hypnotic qualities that make teenage girls scream and artists today and yesterday cite them as one of their influences.
While many of us don't have the opportunity to see the two surviving Beatles Paul McCartney or Ringo Starr live in concert these days, the closest thing to watching an actual Beatles concert will be In My Life – A Musical Theatre Tribute to the Beatles at The Hobby Center for the Performing Arts - Zilkha Hall at 7:30 pm. The Houston show is part of a 125 city tour of the U.S., Canada and Australia.
You mean just another tribute band? No, because not all tribute bands are alike.
This one portrays the Beatles—John Lennon (Nathaniel Bott), Paul McCartney (Christopher Overall), George Harrison (Zak Schaffer) and Ringo Starr (Axel Clarke)—as authentically as possible, from their singing to the myriad of guitars used throughout the band's decade-long career. Listening to songs like "Penny Lane" or "I Want To Hold Your Hand" from this tribute band is almost like listening to the original icons themselves. The cast members are age appropriate for the Beatles, between 22 - 32 years of age.
While the great repertoire of songs bind this musical together, the audience also gets the opportunity to relive the most important moments of The Beatles' epic legacy, which spans the entire 1960s period. The actors that portray the band members connect with the crowd through their lovable sense of humors and cheeky banter.
Source: The Paper