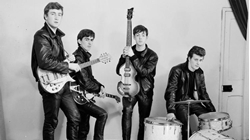 Pete Best was 18 in 1960 and contemplating his future when Paul McCartney asked if he wanted to audition to join The Beatles. Best, then a rising young rock drummer in Liverpool, didn't miss a beat in accepting.
"I got an offer from Paul to go to Germany, which I thought would be for a month or two," he recalled.
"I went down and auditioned and did one show with them at the Jacaranda club. A couple of days after that, we were on our way to Hamburg. It was the first time there for all of us. That was the road that opened up, and I decided: 'Yes, I'll stay with it.' I had been considering going to teachers training college."
Best spent two years playing with The Beatles in Hamburg, Liverpool and points in between. This weekend, he makes his debut at the annual San Diego Beatles Fair, which takes place Friday and Saturday at Queen Bee's in North Park.
Source: George Varga/sandiegouniontribune.com