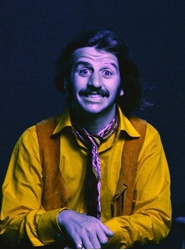 Scots author Davies, 81, reflects fondly on his first experimentation with "drugs" in his new book The Co-Op's Got Bananas! — his memoir of growing up in the 50s and 60s.
He says: "This one day Ringo gave me a 'reefer' to try in the 60s. I don't smoke and I'd never taken any drugs my whole life, but I took it home to my wife.
"Well, we closed the curtains, took the phone off the hook and puffed away for half-an-hour, but felt no different and worked for the whole evening.
"The next time I saw Ringo I said, 'I didn't think much of your reefer'. That's when he told me it was just cabbage leaves."
Davies, who was born in Johnstone, Renfrewshire, was given permission to pen his biography of The Beatles as they recorded the iconic Sgt Pepper's album.
Davies says: "I lived with them for 18 months and I was in Abbey Road during the whole making of Sgt Pepper's.
"You know the famous photograph on Sgt Pepper? I was there in the studio at the time when it was being shot and they were going to have Hitler and they were going to have Jesus — but at the last minute people said it might be bad taste."
By: Lisa Boyle
Source: The Scottish Sun