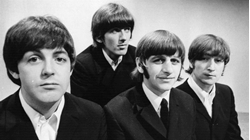 A half-century ago, in a quest for fulfillment, the Beatles traveled to India and produced what would become a wildly popular double album. However, tensions that arose on that excursion foreshadowed the eventual breakup of the Fab 4, according to a band historian.
The 50th anniversary of what is widely known as the White Album, which was released to the public in November 1968, was the focus of a Feb. 15 talk at the Glencoe Public Library by Gary Wenstrup, a Beatles historian and lecturer.
"Glencoe is well ahead of the curve in terms of celebrating it," noted Wenstrup, who said he gives about 40 lectures a year on the iconic band.
Wenstrup told the story of how in the early part of 1968, Paul McCartney, John Lennon, George Harrison and Ringo Starr journeyed to India at the suggestion of Harrison's wife, Pattie, who had become intrigued with meditation and thought it could help everyone in a trying time.
While the Beatles had a major commercial success with Sgt. Pepper Lonely Hearts Club Band the year before, the price of fame was also eating away at them, compounded by the death of their manager, Brian Epstein, in August 1967.
"The Beatles had found that fame, fortune and drugs hadn't given them fulfillment," he said.
Source: Daniel I. Dorfman/chicagotribune.com