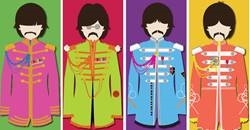 The timing could not be better for the WAVE 3 News Abbey Road on the River to pay homage to the iconic and acclaimed album Sgt. Pepper's Lonely Hearts Club Band. The album was released by The Beatles 50 years ago in 1967, and is set for the much anticipated re-release on May 26, which coincides with the five-day festival, coming up May 25-29, 2017.
Sgt. Pepper, regarded as one of the first concept albums, is known for being one of the most influential and innovative albums of all time. It won four Grammy's, and included hits like "Lucy in the Sky With Diamonds," "With a Little Help From My Friends," and "A Day in the Life."
The new, remixed special anniversary edition of the Sgt. Pepper album includes previously unreleased takes from their recording sessions.
More than 15 events will celebrate the groundbreaking album throughout the weekend, including 9 concerts, a presentation by internationally recognized Beatles expert Scott Freiman, and a "Pepper at 50" panel discussion with author Bruce Spizer, Beatle best friend and long-time aide Tony Bramwell, and "Beatle Brunch" Radio Host Joe Johnson.
On Saturday, May 27 at 11:45 p.m., a listening party will be held for the release of the new Sgt. Pepper's Lonely Hearts Club Band Anniversary Edition.
The WAVE 3 News Abbey Road on the River will be held in Jeffersonville, Ind. at the Big Four Station Park on Memorial Day weekend, May 25-29. The 2017 lineup includes Herman's Hermits starring Peter Noone, Grammy-winner Peter Asher, Rock-n-Roll Hall of Famers The Family Stone, The Grass Roots, Mark Lindsay of Paul Revere and the Raiders, Ambrosia, and former Wings band members Laurence Juber (guitarist) and Steve Holley (drummer). More than 50 bands from around the world will perform on eight indoor and outdoor stages over the course of the five-day event.
Source: The Lane Report