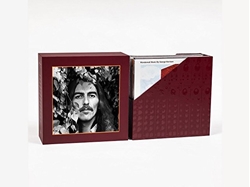 Since we're talking Record Store Day this week, I thought I'd rave about two new, high-end Beatles-related gems that emerged recently, perfect for digging up this Saturday. They'll keep you more than a little occupied while you wait for the 50th anniversary reissue of "Sgt. Pepper's Lonely Hearts Club Band," due out May 26.
In honor of the late George Harrison's birthday in February, an extended edition of his book, "I Me Mine," was published in an absolutely stunning package.
First produced by Genesis Publications in 1980, "I Me Mine" was packed full of photos, reminiscences and hand-written song lyric sheets, reminding us that for all his serious spiritual side, George never stopped being the fun-loving Liverpool kid with a razor wit.
This new hardcover "extended" version includes another 59 handwritten lyrics and more content that will thrill Harrison fans.
It makes the perfect accompaniment to the sprawling box set that arrived at the same time, collecting all of Harrison's 13 solo outings on vinyl. "George Harrison - The Vinyl Collection" also adds 12" picture discs of "When We Was Fab" and "Got My Mind Set On You."
By: Bobby Tanzilo
Source: On Milwaukee