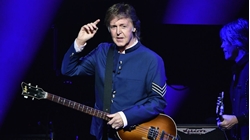 Sir Paul McCartney and a host of rock and pop legends are backing a move in Parliament to protect music venues from closure.
Senior Labour MP John Spellar, a Government minister under Tony Blair and Gordon Brown, is introducing a bill in the Commons to change planning laws.
The proposed new law is backed by stars including Sir Paul, Chrissie Hynde, Craig David, Sandie Shaw, Ray Davies, Billy Bragg, Feargal Sharkey and Pink Floyd drummer Nick Mason.
UK Music, a campaign group representing both the recorded and live music industries, said that over the past decade 35% of music venues across the country have closed.
Among venues that have had to fight closure threats are London's iconic dance club Ministry of Sound and the 100 Club, where The Who, Sex Pistols and Oasis have performed.
Pledging his support for Mr Spellar's bill, Sir Paul said: "Without the grassroots clubs, pubs and music venues my career could have been very different.
Source: Sky News