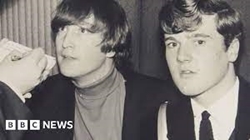 A never-broadcast interview with John Lennon, recorded by a Hull art student in 1964, is to be auctioned.
On the tape, Lennon tells 18-year-old John Hill he does not think The Beatles are "very good musicians" and admitted he got a friend to sit his art exam because the group were touring.
Mr Hill, who was studying at Hull Art College, recorded the reel-to-reel interview before a Beatles gig.
He found the tape in 2014 after it spent 50 years in a drawer.
Graham Paddison, of David Duggleby Auctioneers in Scarborough who are selling the lot, said that Mr Hill "bluffed" his way into the room where the Beatles were talking to the press.
Source: McCartney Times