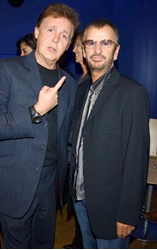 BEATLES legend Ringo Starr will be knighted in the New Year's Honours.
The drummer, 77, is recognised for services to music and charity.
Ringo Starr is to finally be knighted, over 20 years after bandmate Sir Paul McCartney received his gong
Ringo, given an MBE in 1965, is said to be "made up". A pal added: "It's richly deserved, if a little overdue."
He will return to Buckingham Palace for a knighthood — 52 years after getting his MBE.
Bandmate Sir Paul McCartney urged the Queen: "Look, love it's about time."
Macca was knighted in 1997 but Ringo, 77, had given up all hope before a letter arrived from the Palace a few weeks ago.
Source: David Wooding