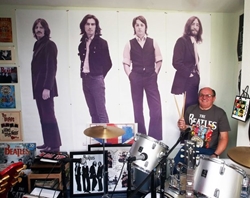 With new Beatles movie 'Yesterday' in the cinemas, the Fab Four will no doubt be winning over some new fans this month.
But for Brian Mcintyre, it's been a near 50-year love affair - and he has the collection to prove it.
The 67-year-old mega-fan, of North Sheilds, has been buying Beatles memorabilia since he first fell in love with the band as a child after a family trauma.
He said: "I heard their first single 'Love Me Do' on the radio when I was 10 years old and I've loved them ever since.
"That was around when my dad died and I think it helped me grieve during a difficult time when my mam was raising five kids.
"Everyone in the house liked them but no one as much as me.
Source: Chronicle Live