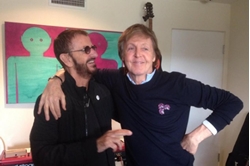 Paul McCartney and Ringo Starr have reunited in the recording studio for the first time since 2009.
The Beatles shared a picture of themselves following a studio session on Sunday, suggesting that they had been working together on new material. Shared on Starr's Twitter page, the caption read: "Thanks for coming over man and playing. Great bass. I love you man - peace and love." McCartney is expected to feature on a number of tracks from Starr's forthcoming follow-up to 2015's Postcard from Paradise.
Eagles star Joe Walsh was also in the studio at Starr's home over the weekend, leading fans to believe that an epic collaboration in the works.
Producer Bruce Sugar, who has worked with both Starr and Walsh on a number of their most recent releases, also posted a snap of himself with the Beatles. "Magical day in the studio today with these two," he wrote.
McCartney and Starr last worked together back in 2010 on tracks Peace Dream and Walk With You for album Y Not.
Rumours of a new collaboration surfaced last week when the pair were spotted having dinner together in Santa Monica, alongside Walsh, Tom Hanks and Dave Grohl.
By: Jennifer Ruby
Source: Evening Standard