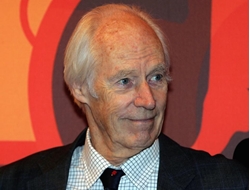 Sir George Martin, as the world knows, is the producer who helped shape an incredible body of work by The Beatles over the course of seven years. Martin was also a man with deep secrets and insecurities, some detailed for the first time in a new biography.
Martin met the band at a time that he was caught between two worlds - and his own upbringing, only now being revealed, influenced his relationship with the group, the book says. He was integral to the Fab Four's success and they might well have never been the best-selling band in history (with more than 800 million records shifted) had it not been for his musical genius and business skill, according to Maximum Volume, by established Beatles author Kenneth Womack.
So was Martin "the fifth Beatle," as is often described? Womack replies in an interview: "I think at times he was the third or fourth Beatle - and I don't mean that as any kind of negative critique of anyone else's contribution." Martin died last year at the age of 90.
Source: Mark Beech (Forbes)