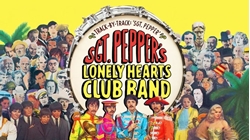 The Beatles' Sgt. Pepper's Lonely Hearts Club Band, which Rolling Stone named as the greatest album of all time, turns 50 on June 1st. In honor of the anniversary, and coinciding with a new deluxe reissue of Sgt. Pepper, we present a series of in-depth pieces – one for each of the album's tracks, excluding the brief "Sgt. Pepper's Lonely Hearts Club Band" reprise on Side Two – that explore the background of this revolutionary and beloved LP. Today's installment focuses on how Paul McCartney's solo travels after the end of the Beatles' final tour inspired the title track and gave Sgt. Pepper its famous "alter ego" concept.
"Right – that's it, I'm not a Beatle anymore!" George Harrison was heard to exclaim as the band concluded their touring career on August 29th, 1966, with a set at San Francisco's Candlestick Park. His remark bore a touch of hyperbole, but for the next few months, the Beatles effectively didn't exist. That fall afforded the foursome the most substantial stretch of personal time they had ever known as adults, allowing each to finally get to know the man he had become after four years as part of a collective identity.
John Lennon had been the first to venture out, accepting a part in director Richard Lester's satire How I Won the War. It was little more than a glorified cameo, but the role required him to be shorn of his famous mop-top – a metaphor if there ever was one – and film on location in West Germany and Spain. Harrison also went abroad several weeks later, pursuing his love of Indian culture by going to the source. Accompanied by his wife Patti, he made a pilgrimage to Mumbai to study sitar under the tutelage of virtuoso Ravi Shankar. Ringo Starr was joyfully playing the family man, spending time with his wife Maureen and baby son Zak in his Surrey estate, Sunny Heights.
By: Jordan Runtagh
Source: Rolling Stone