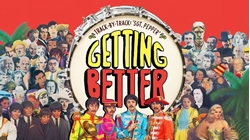 The Beatles' Sgt. Pepper's Lonely Hearts Club Band, which Rolling Stone named as the best album of all time, turns 50 on June 1st. In honor of the anniversary, and coinciding with a new deluxe reissue of Sgt. Pepper, we present a series of in-depth pieces – one for each of the album's tracks, excluding the brief "Sgt. Pepper's Lonely Hearts Club Band" reprise on Side Two – that explore the background of this revolutionary and beloved record. Today's installment looks back on the night John Lennon accidentally dosed himself with acid before a recording session for "Getting Better."
It could be argued that "Getting Better" is the most perfect of all latter-day John Lennon and Paul McCartney collaborations. Sure, "A Day in the Life" gets the prestige, but the fourth track on Sgt. Pepper's Lonely Hearts Club Band beautifully illustrates their very different characters. While the song was being recorded that spring, an odd incident would further fuse their souls on a psychedelic level.
McCartney devised the title while walking his sheepdog Martha through London's Regent's Park in early 1967. He was joined by journalist Hunter Davies, then shadowing the Beatles while working on their official biography. "It was the first spring-like morning of that year, and as we got to the top of the hill, the sun came up," Davies relayed to Steve Turner in his book, A Hard Day's Write. "[Paul] turned to me and said, 'It's getting better,' meaning that spring was here. Then, he started laughing and I asked him what he was laughing about." McCartney recounted a story about Jimmie Nichol, a drummer who played with the band for 10 concert dates on their 1964 world tour while Ringo Starr recovered from tonsillitis and pharyngitis. When asked how he was adapting to the insanity of Beatlemania, the good-natured Nichol would reply, "It's getting better!" The phrase, and all its earnestness, became something of an in-joke among the band.
By: Jordan Runtagh
Source: Rolling Stone