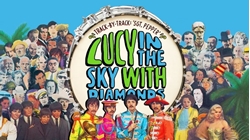 The Beatles' Sgt. Pepper's Lonely Hearts Club Band, which Rolling Stone named as the best album of all time, turns 50 on June 1st. In honor of the anniversary, and coinciding with a new deluxe reissue of Sgt. Pepper, we present a series of in-depth pieces – one for each of the album's tracks, excluding the brief "Sgt. Pepper's Lonely Hearts Club Band" reprise on Side Two – that explore the background of this revolutionary and beloved record. Today's installment tells the story of how a school drawing by a three-year-old Julian Lennon inspired "Lucy in the Sky With Diamonds."
"I swear to God, or swear to Mao, or to anybody you like, I had no idea it spelt LSD," John Lennon insisted to Rolling Stone in 1970 of the title of "Lucy in the Sky With Diamonds." In interview after interview, Lennon begged listeners to accept that the Sgt. Pepper's Lonely Hearts Club Band standout was "not an acid song." The public, for their part, merely rolled their eyes.
Until the end of his life, Lennon maintained that the song was actually inspired by a painting that his three-year-old son Julian had made of Lucy O'Donnell, his classmate at Heath House nursery school. "This is the truth: My son came home with a drawing and showed me this strange-looking woman flying around," he explained during an appearance on The Dick Cavett Show in 1971. "I said, 'What is it?' and he said, 'It's Lucy in the sky with diamonds,' and I thought, 'That's beautiful.' I immediately wrote a song about it. After the album had come out and the album had been published, someone noticed that the letters spelt out LSD and I had no idea about it. ... But nobody believes me."
By: Jordan Runtagh
Source: Rolling Stone