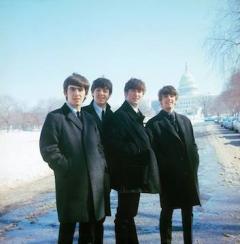 There's the chance to see waxworks of The Beatles in Sydney at the moment. The city's branch of Madame Tussauds is currently home to a late 1960s themed wax version of the well-known group.
The sculptures have come to Sydney from Tokyo as part of a tour and are set to head to San Francisco come September, meaning their time in Oz is limited. Visitors can stand with George, Paul, Ringo and John and create a personalised LP cover at the museum. Madame Tussauds has a long history with The Beatles. They were the first rock group to become waxworks for the museum brand and first had sittings with it as far back as 1964. The Beatles are perhaps the world's most famous band, behind hits like Please Please Me and Get Back.Madame Tussauds is far from the only museum in Sydney, of course. As you would expect from such a famous location, there are a wide range of places to see exhibits there, such as the Museum of Sydney on the corner of Phillip and Bridge Streets and The Australian Museum.
Listen to the Audio Version of this News Story

Read more on this story......
Source: Opodo, UK