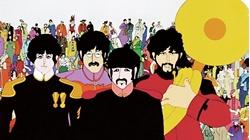 The Beatles animation movie Yellow Submarine which premiered on July 17 1968 will return to cinemas across the United States, Britain and Ireland this summer marking its fiftieth anniversary.
The audio, which features Beatles songs like A Day in the Life and Lucy in the Sky with Diamonds was remixed in 5.1 stereo sound at Abbey Road Studios, where the Beatles recorded most of their work.
The movie's mind-bending psychedelic landscapes - in which the Beatles tried to wipe out the so-called Blue Meanies - have been restored in 4k digital resolution. The animation was actually cleaned up by hand, frame by frame, rather than through automated digital software.
Legendary budgetary disputes bedevilled the making of the movie. "There was an epic struggle between the British and the American producers about money, " declares Valentine Edelmann, daughter of Czech-German graphic designer Heinz Edelmann who was in charge of animation. She is quoted in today's by Irish Mail on Sunday.
Source: rte.ie