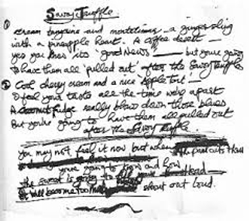 Do a deep dive into the best songs about candy, and suddenly ten titles arrive, yet for some reason, the best by far is excluded—The Beatles, "Savoy Truffle." A few of the other candy songs are memorable, but none are worthy, really, to touch the hem of this classic by George Harrison and his first band, The Beatles.
After all, almost all of the other candy songs are not really about candy itself, but are using candy as a metaphor for something else altogether. This something else, according to our most current research, is always sex. Even the most innocent of these uses secret codes aimed dually towards older teens focussed full-time on sex, and the younger kids who just love candy.
Even "Sugar Sugar," written by Jeff Barry & Ellie Greenwich for The Archies, divulges its secret heart in the first verse: You are my candy, girl, and you got me wanting you…
But "Savoy Truffle" from The White Album is not based on a metaphor, nor any kind of sneaky indirection. It's about candy, and also the repercussion of such over-indulgence: bad teeth.
Source: See More>>>