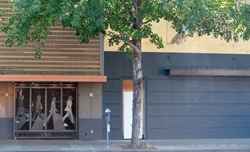 The Beatles are no longer walking along Main Street, but they will soon return.
The mural painted by artist Gregg Payne, which depicted Fab Four as they were on the "Abbey Road" album cover photograph by Iain Mcmillan, has finally come down after adorning a wall on the 100 block of Main Street for more than 20 years. Workers painted over the mural early last month as part of renovations for an incoming restaurant, but that job went mostly unnoticed as the area was covered by fences at the time.
The decision to remove the mural was a difficult one, building owner David Halimi said, adding that it was part of a compromise with his new tenant and the artwork will be repainted nearby. The new tenant, Will Brady, owner of B-Street Public House and The Banshee, is opening a restaurant in that space.
The new tenant didn't feel that it went with the theme of his business, Halimi said, and with the building undergoing work to restore it to its original look and add lofts and studios, the art no longer matched the direction in which the building is going.
Source: chicoer.com