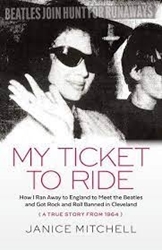 Janice Mitchell is a retired criminal and civil investigator, but it was she who was the subject of an international search when, in 1964, the Cleveland Heights teenager and a friend took off for a new life. It's all in "My Ticket to Ride: How I Ran Away to England to Meet the Beatles and Got Rock and Roll Banned in England (a True Story from 1964)."
Mitchell's early life was tumultuous, with hard-partying parents who left their three children alone or with strangers. When Janice was in second grade, her mother abandoned the family and Janice was taken in by her great-aunt Toots, husband Mac and spiteful adult daughter Margie. Life was fine because of Mac's kindness and devotion, but it was not to last.
At 16, Janice was a student at a Catholic high school, listening to Bobby Vinton and the Singing Nun on the radio while doing her homework. Suddenly, a lightning bolt: "I Want to Hold Your Hand," and she "had something to live for." Janice struck up an acquaintance with Harry Martin, a Cleveland disc jockey, when he emceed a teen dance, and he invited her to visit his station.
Source: Opera News