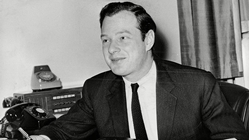 The Liverpudlian who put the Beatles in suits, landed them a record deal with Parlophone, and brought to them to "The Ed Sullivan Show" is getting the biopic treatment from Bravo. Bravo is developing a limited series based on the life of Brian Epstein, the Beatles manager who helped steer them to "the toppermost of the poppermost" from the early 1960s until his death of a drug overdose in August 1967 at the age of 32.
Produced by Universal Cable Productions and Sonar Entertainment, the project is based on "The Fifth Beatle: The Brian Epstein Story," the Dark Horse Comics graphic novel penned by Vivek J. Tiwary with art by Andrew C. Robinson and Kyle Baker. Tiwary will pen the series adaptation and serve as executive producer along with Leopoldo Gout. Bravo said the project has secured access to the Lennon-McCartney song catalog for use in the series.
Epstein is an enigmatic figure in the history of the legendary band. He struggled with internal and external demons and discrimination as a Jewish, closeted gay man living at a time when homosexuality was a felony in Britain.
Source: By Cynthia Littleton /Variety