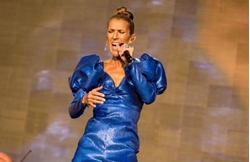 Celine Dion paid tribute to Sir George Martin at her London concert on Friday (05.07.19).
The 51-year-old star kicked off the Barclaycard presents British Summer Time Festival in Hyde Park and used the gig to remember the English record producer – known as "the fifth Beatle" – who she worked with on her 'Let's Talk About Love' album.
She said: "Many years ago, I had the honour and the privilege of working with the late great Sir George Martin, your very own Sir George Martin and he produced 'The Reason' for me. I wanted to mention his name before I sing this song because meeting with him and working with him, singing for him was more than a privilege, it was a true honour and I wanted to say a few words about him. So thank you so much."
And the star spoke about her involvement with 2018's 'Deadpool 2', when she recorded 'Ashes' for the soundtrack, although she joked that she originally hoped to star in it and win a Best Actress Oscar.
Source: list.co.uk