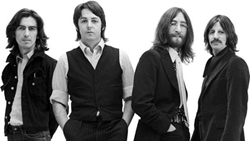 The best thing people can hope for, in regards to new music each year, is that The Arctic Monkeys get in the studio, next big thing emerges, or Kanye West postpones his next album.
However, could this year see the release of material from the likes of Bob Dylan, The Beatles, and The Rolling Stones? Intrigued? Let us explain. For this article, we've purposely focused on The Fab Four, or we'd be waffling all day, but the same theory applies to any band of that era.
Chances are you don't know much about copyright law. It's pretty complicated and tedious. Heck, not even the artists know the rules, cue Paul McCartney suing Sony for clarification after Duran Duran's interpretation of the laws was "rejected."
We'll try and keep this simple as possible. The law we're focusing on here relates to the amount of time the performance rights of copyrighted material remains the property of performer before it eventually enters the public domain. Composers already own copyright over their music until 70 years after their death.
Did you know for instance "Happy Birthday To You" was copyrighted until December 31, 2016? That essentially meant that for every non-private performance of the song, the PRS were entitled to collect royalties for publishers Warner/Chappell.
The layman's explanation is that until recently all recorded works were copyrighted for 50 years. After that, the material would enter the public domain. This law changed in 2011, due to what was nicknamed "Cliff's Law," after a certain pop singer; not the deceased Metallica bassist. This extended copyright on recorded music to 70 years. Good news for performers like Cliff Richard who don't collect composers royalties on the majority of their music.
By: Martin John McDonnell
Source: Hit The Floor