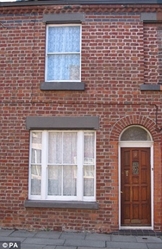 The National Trust was accused of 'turning its back' on an important part of Beatles history yesterday after refusing to adopt Ringo Starr's childhood home.
The humble two-up, two-down terraced house in Liverpool attracts thousands of fans every year.
Along with other properties in the street it was being renovated and the hope was it would be turned into a heritage attraction, like the former homes of other Fab Four members.
But social housing company PlaceFirst has revealed its offer to lease Ringo's birthplace to the National Trust was turned down.
Now the Victorian property will be kept locked up because of concerns no one would want to live in a house subjected to constant attention from visitors.
Save Madryn Street campaign founder Steve Barnes accused the trust of shunning a 'golden opportunity' to preserve a vital part of Beatles heritage.
'We had expected that the National Trust or some other body would take it over and operate the house as a destination, with carefully controlled access,' he said.
Source: Daily Mail