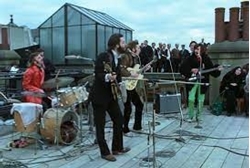 Peter Jackson's documentary series "The Beatles: Get Back" premiered on Disney+ over Thanksgiving weekend. The three-episode special, which ran 470 minutes, was culled from over 60 hours of original studio footage and 150 hours of audio recordings.
To preserve continuity, streamline themes, and get the final running time under eight hours, the following moments were edited out:
Day 1: Paul shows up to Twickenham Studios with 11 new songs, plus a formula for a future unknown pandemic vaccine he jotted down in the cab on the way over.
Day 2: Peter Sellers drops by Twickenham to say hello to Ringo, his co-star in the upcoming film, "The Magic Christian." The visit is cut short when Yoko Ono asks Sellers if he'll call her estranged husband's divorce lawyer and threaten him using the Clouseau voice.
Source: salon.com