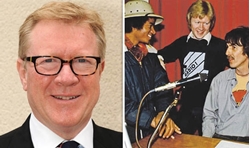 DJ David had both Michael Jackson and George Harrison together in the same room
"But as this photograph shows, it's the only time they were together on my Radio 1 show.
It was taken at Broadcasting House in summer 1979 on my Friday evening programme, Roundtable – which remains my favourite show to present in 50 years of broadcasting.
The show involved premier artistes talking about other people's music, reviewing the latest singles and telling us what they were up to.
Both Michael and George were happy the other was going to appear and you can see by their body language – with Michael listening closely to what George is saying – that they were at home in each other's company.
Source: Tony Padman/express.co.uk