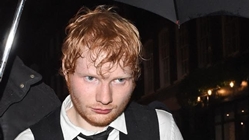 Ed Sheeran reportedly turned up to shoot scenes for his debut movie while nursing a hangover.
The Thinking Out Loud singer has a small role in Danny Boyle and Richard Curtis' new comedy, which is inspired by The Beatles' music. Filming has been taking place in the band's hometown of Liverpool, England this week (end10Jun18), and Ed shot his first scenes on Tuesday. A movie insider told The Sun that Ed turned up on set with a sore head after spending Monday night drinking whisky.
"Ed rocked up on set with a seriously fuzzy head," they said, adding it wasn't the best start after his poorly received cameo in Game of Thrones. The musician's role in Game of Thrones was mocked by fans of the fantasy show, but members of the crew on the new film apparently praised him as a "natural" actor. The Sun's source explained that Ed shrugged off his hangover and was very professional when the cameras started rolling.
Source: Newsdesk/film-news.co.uk