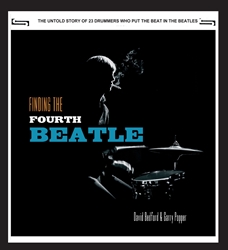 David Bedford's fascinating non-fiction book "Finding The Fourth Beatle" tells an unfamiliar chapter of the Beatles' story
Everybody knows The Beatles and its main members, the Fab Four. But most people are unaware that from 1956 to 1970 the band had 23 different drummers including Colin Hanton, Pete Best, Jimmie Nicol, and others whose names readers will likely be unfamiliar with. This new book tells the story of the men who could have joined The Beatles, but didn't. Readers learn about The Beatles' crises, changes of musical direction, getting a record deal, and finding the drummer who would put the beat in The Beatles: Ringo Starr, the Fourth Beatle.
"Finding The Fourth Beatle" by David Bedford is packed with fascinatng detail. The author provides expert analyses of the drummers by other drummers. He explains why Brian Epstein didn't sign the Beatles' first contract, why The Beatles failed the Decca audition and reveals whether The Beatles were under contract at Parlophone in June 62. Other questions answered in this non-fiction book include: Who was asked to replace Pete Best before Ringo? Why didn't Brian Epstein sack Pete Best? And: Why did Ringo become the Fourth Beatle and inspire generations of drummers? A must-read for any Beatles fan!
Source: David Bedford/cbs8.com