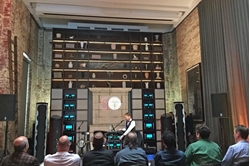 So why do it? Remix Sgt. Pepper's Lonely Hearts Club Band, 50 years after the album's original release? Giles Martin (above), son of Sir George and the man behind the new remix, said the answer is simple. Because the original tapes are in pristine condition we can.
And then there's the all-important context: record labels need something to sell. And after all we are talking about the Beatles here. If there is anything like a sure thing, a guaranteed hit, in the music business, it's John, Paul, Ringo and George.
Better face it now Beatles fans: we are all going to be buying "new" Beatles reissues for the rest of our time upon this mortal coil. When it come to the Beatles, and the trove of unreleased outtakes, alternate takes, and live tracks still in the vaults, it's best to just admit we want if not need it all. And now that the sonics are said to be improved, price is really no longer an object. Think about the coming reissues—nothing has been announced, but rest assured there's a plan—of the The Beatles "White Album" and Abbey Road with outtakes, alternates and a fresh remix. I will pay, within or without reason, whatever they ask.
That said, the new remix of the Sgt Pepper's is a welcome freshening that drew a standing ovation out of the assembled crowd at the World of McIntosh Townhouse in SoHo, NYC on Friday morning, April 28. A crowd that included Elvis Costello, who came in black cowboy boots and brown, gentlemanly cowboy hat, heard the band anew, 24 years old again, bursting with creativity, and given new vibrancy and life by this fresh remix. While all the ingredients from the original mixes were still there, these new sonic recenterings, this portraits from a slightly different angle, felt exactly right.

By: Robert Baird
Source: Stereophile