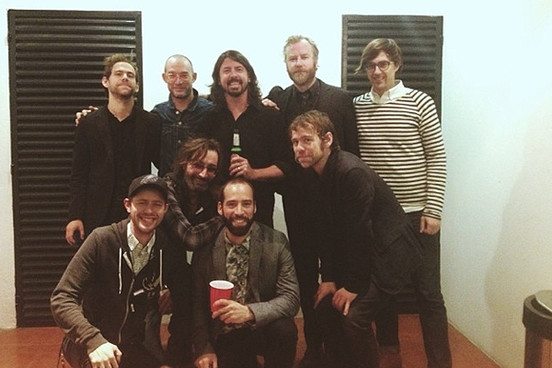 Foo Fighters made their official live return in Mexico last night (December 11), performing a huge open air concert during which they covered The Beatles, Pink Floyd and Tom Petty And The Heartbreakers.
The band performed hits from across their career at the 55,000-capacity Foro Sol stadium, with The National providing support on the night. Among the covers performed were 'Blackbird' by The Beatles and Pink Floyd's 'In The Flesh'. No new material was played during the 27-song set. A picture of The National with Dave Grohl was posted onto the band's Instagram page after the show. Both bands will play a second date at the stadium on Friday (December 13). Earlier this week Foo Fighters surprised diners in a Californian pizza restaurant by playing a secret show (December 9). The band took to the stage at the 200-capacity Rock & Roll Pizza venue in Moorpark, playing a 23-song set of classic tracks. Foo Fighters' last gig was in New York in September 2012 at the Global Festival event.
Listen to the Audio Version of this News Story

Read more on this story.....
Source: NME, UK
Photo Credit: Instagram/The National