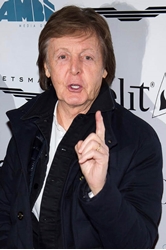 George and Amal Clooney, Paul McCartney, and Meryl Streep were among the celebrities who trekked to Washington, D.C., on Friday for President Barack Obama and First Lady Michelle Obama's farewell celebration at the White House.
They were among those spotted arriving at the White House for the late-evening event, along with Gloria Estefan, Magic Johnson, Anna Wintour, Bradley Cooper, Harvey Weinstein, Lorne Michaels, John Legend and Chrissy Teigen, Steven Spielberg, George Lucas, Kelly Rowland, Tracee Ellis Ross, David Letterman, Gloria Estefan, Tyler Perry, Robert De Niro, Jon Hamm, Ken Burns, Stevie Wonder, Al Roker, Chris Rock, and Lena Dunham.
Photos of the arrivals were posted on social media by reporters, including CNN's Betsy Klein, staked out near the White House entrance.
Many of the Obamas' friends who attended were donors and supporters throughout their White House years and two presidential campaigns.
The presence of so many celebrities may contrast to the turnout for Donald Trump's inauguration. His team has been trying to line up talent to perform at his inauguration festivities later this month. Performers like Elton John and Garth Brooks have declined.
By: Ted Johnson
Source: Boston Hearld