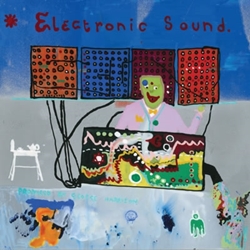 In his introduction to the George Harrison The Apple Years box set, Tom Rowlands of The Chemical Brothers says, "The record…hangs on the wall of my studio, just next to my own Moog modular, beaming inspiration straight to my brain." Rowlands had bought a second hand copy of the LP from a Japanese record shop in the mid 1990s and was amazed by what he heard.
Recorded in November 1968 and February 1969 George's Electronic Sound was released in May 1969, it was the second, and final, record released on The Beatles' Apple Records subsidiary label, Zapple Records. It was yet more proof that George was ahead of his time and in many respects the most musically enquiring of the four Beatles.
Electronic Sound is made up of two long pieces of music, originally one on each side of the LP, that are performed on the Moog synthesizer; the Moog IIIc modular system was purchased by George from its inventor, Robert Moog. The record was made against a background of musical exploration that characterised London and Los Angeles in 1968 …Avant-garde was everywhere.
Side 2 of the album 'No Time or Space' was the first to be recorded and was done in Los Angeles in November 1968. George had finished work on The Beatles (White Album) and had flown to America's West Coast to produce Jackie Lomax's Apple album, Is This What You Want? at Sound Recorders Studio in Hollywood.
Source: U Discover