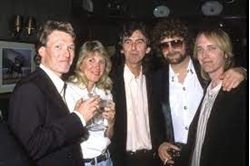 Before Jeff Lynne co-founded Electric Light Orchestra, he and his band, the Idle Race, watched George Harrison and The Beatles record some of The White Album in 1968.
Lynne had no idea that he'd be back in the studio with George, who'd requested him specifically to produce Cloud Nine in 1987. George had no idea that the person he'd brushed off as a Beatles copycat would become one of his closest friends.
During a rare 1987 interview with Entertainment Weekly, George explained that it was a bit ironic that he loved working with Lynne.
"In an article from the 1970s, when the writer described an ELO song coming on the radio, you said, almost dismissively, 'Sounds like the Beatles.' Now, irony of ironies, you've ended up working with Jeff Lynne," Entertainment Weekly pointed out to George.
Source: cheatsheet.com