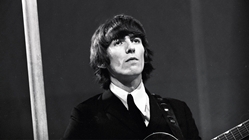 "Concert for George," a documentary about the tribute concert to George Harrison, will get a theatrical run presented by Abramorama in association with Concord Music beginning Feb. 20. The film will be shown in more than 75 theaters across North America.
The launch takes place five days before what would have been George Harrison's 75th birthday. The international rollout of the film will be announced next week.
"C0ncert for George" was held on Nov. 29, 2002, one year after Harrison died. His widow, Olivia Harrison, and longtime friend Eric Clapton organized a tribute performance in his honor at London's Royal Albert Hall performed by a lineup that included Clapton, Joe Brown, Dhani Harrison, Jools Holland, Jeff Lynne, Paul McCartney, Monty Python, Tom Petty, Billy Preston, Ravi and Anoushka Shankar and Ringo Starr.
Source: Variety