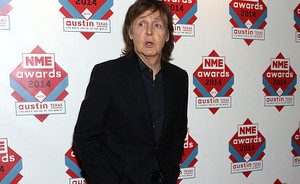 The inaugural Sir Paul McCartney Day coincided with the former Beatles member's live show at the Target Field venue yesterday. The gig was only McCartney's fourth appearance in the state since 1965 and his first since a gig at the Metrodome in 1993. The Beatles first played Minnesota in 1965 at the Metropolitan Stadium. Governor of Minnesota, Mark Dayton, made the day official and an official proclamation of the occasion states that August 2 will see the state "come together to honour one of the most influential and inspiring musicians in history." In July McCartney resumed his Out There tour, after taking off almost two months following a virus.
The former Beatle played Times Union Centre in Albany, New York on July 5, telling the crowd "It's great to be back," and opening his three-hour long set with 'Eight Days A Week'. In May, McCartney was taken ill and hospitalised in Tokyo, Japan. He subsequently postponed a series of shows in Lubbock, Dallas, New Orleans, Atlanta, Jacksonville, Nashville and Louisville on his 'Out There' tour, which have now been rearranged for October.
Read more on this story..........
Related Articles Source: NME, UK