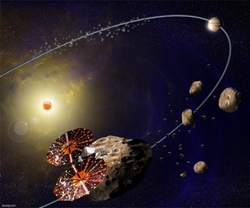 The Beatles are one of the greatest cultural phenomena to come from the 20th Century, yet many people are unaware of their impact on science.
In 'Here, There and Everywhere', inspired by the book 'La scienza dei Beatles' ('The science of the Beatles'), Viviana Ambrosi shows how the Fab Four can bring the study of celestial objects and the exploration of the universe closer to a large public audience. This is set out in a presentation on 3rd April at the European Week of Astronomy and Space Science in Liverpool. The Beatles formed at the start of the space race, and have always inspired scientists, whether they knew it or not.
The Beatles' record company (EMI) used money from the sale of the White Album to fund scientific research. Some of which went towards Godfrey Hounsfield's research into X-rays, which led to the invention of the CT scanner, for which he shared a Nobel Prize.
Source: spacedaily.com