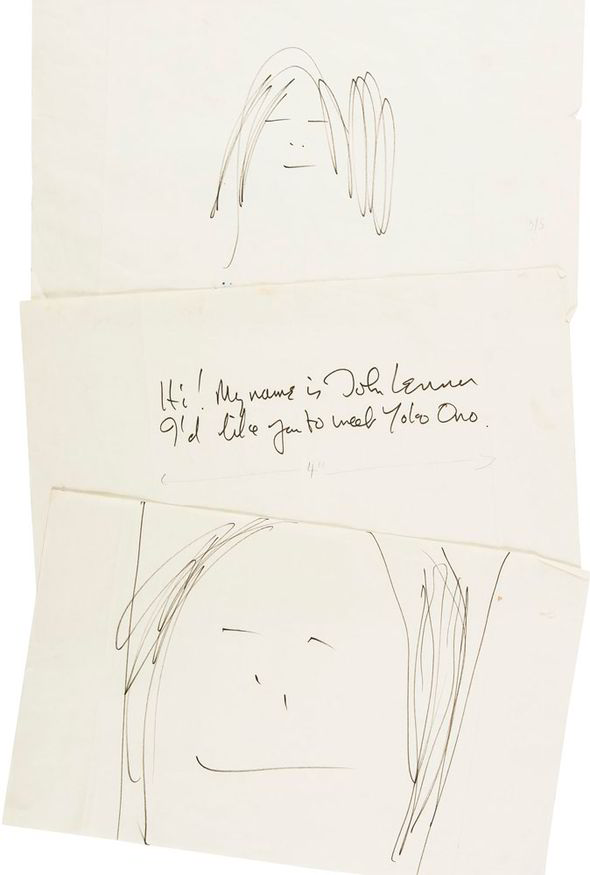 The picture, made up of a few wavy lines drawn in a childlike manner, was created for his wife Yoko Ono's conceptual art book Grapefruit.
The Imagine singer also drew a picture of his partner for the 1970 printing of the book.

Alongside the drawings there is an introduction which said: "Hi my name is John Lennon. I'd like you to meet Yoko Ono." The drawings and the 13 word introduction to the book is expected to sell for £6,000 at London auctioneers Bloomsbury. The three pieces were originally bought by a British collector in the early seventies who is now selling them.
Max Hasler, from Bloomsbury, said: "To be honest it is difficult to tell out of the two drawings which one is John Lennon and which one is Yoko Ono. "Yoko Ono published Grapefruit in Japan in 1968 and it was published for first time in the UK and US in 1970. "To make it more appealing to Western buyers, the publishers asked John Lennon to do a little introduction for it.
Listen to the Audio Version of this News Story

Source: Express
Photo Credit: [MAIN - GETTY & INSET - BNPS.CO.UK]