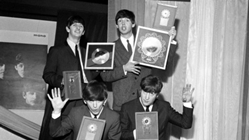 The record that launched The Beatles career is going on display at The Beatles Story in Liverpool.
The unique acetate disc was presented to producer George Martin by the band's manager, Brian Epstein, 55 years ago, on February 13th 1962. It features a recording of 'Hello Little Girl' on one side and 'Til There Was You' on the other.
Brian Epstein had the disc cut in the Personal Recording Department of the HMV record store on Oxford St in London. It was cut using The Beatles' Decca audition tapes before being presented to George Martin of EMI.
Despite Martin's initial reticence, the disc eventually led to the breakthrough the band were looking for.
The leading Beatles historian Mark Lewisohn wrote about the disc in his book 'Tune In': "Its uniqueness is enhanced by Brian Epstein's handwriting on the labels, and the recognition of what it led to – making it one of the rarest and most collectible of all Beatles records."
"This is one of those Holy Grail items like the original Quarrymen acetate that the band recorded themselves. This acetate is a unique item that, in many respects, helped Brian Epstein to start the ball rolling to world domination."
Source: ITV News