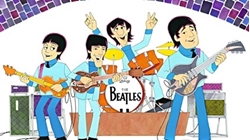 It's not often that an artist has his work denigrated by the very subject of it and can laugh about it decades later. But that's exactly what has happened to animator Ron Campbell, the director of "The Beatles" cartoon series. The Saturday morning show ran from 1965-69 and featured clean-cut, kid-friendly adventures of the Mop Tops set to their original recordings.
"I had heard that after the Beatles saw the show for the first time, John Lennon called it 'that Flinstones shit,'" Campbell chuckles. "And then Ringo was upset and said 'Oh, they made me the idiot!' Which of course, we did. Poor guy!"
Campbell – a creative force in animation for more than five decades – will be making a stop in Houston at the Muir Fine Art Gallery. He'll be selling and signing original artwork, prints, and posters—subjects including the Beatles and other cartoon favorites—and talking with fans.
Source: Bob Ruggiero/houstonpress.com