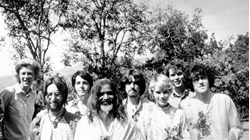 It was "lousy" and "delicious"– a "mistake" and a "uniquely calm and creative oasis". For The Beatles, the world's most famous, successful and influential pop group, it was the beginning of the end.
At the end of April 1968, 50 years ago, George Harrison landed in England after 10 weeks studying with the Maharishi Mahesh Yogi in Rishikesh, northern India. With the Vietnam War escalating and student protests threatening to break out across the US and Europe, the Fab Four withdrew from the fray to study transcendental meditation.
The Beatles were changed by it, for good and bad, and so too was the world, albeit in quieter, smaller ways. The group's sojourn in the Himalayas was a pivotal moment in the relations between Eastern and Western hemispheres and laid a blueprint for the modern mass-media event.
Source: thenational.ae