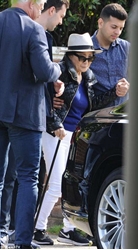 A frail-looking Yoko Ono was spotted visiting two of John Lennon's childhood homes on Friday after traveling from her New York home to Liverpool.
The artist, who was married to Lennon from 1969 until his death in 1980, was in the city to open a museum show dedicated to their relationship, filled with exhibits from her own private collection.
While in Liverpool she visited Mendips, the home where Lennon spent most of his childhood, and took a photo of herself in his bedroom.
Source: Daily Mail