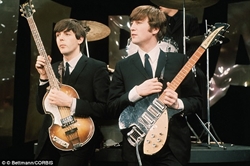 Sir Paul McCartney has revealed that he and John Lennon wrote their best tracks while sitting 'opposite each other on twin beds'. The Beatles star recalled moments where the two of them would 'spin off each other' as they came up with new melodies.
Asked about his experience of writing music, the 74-year-old, who formed the Beatles in 1960 with Lennon, George Harrison and Ringo Starr, said: 'There's a million ways to write, but the way I always used to write was with John and it would be across from each other, either in a hotel bedroom on the twin beds, with an acoustic guitar and we're just looking at each other.
'He'd make up something, I'd make up something and we'd just spin off each other. 'It's always my big memory, is seeing John there, him being right-handed, me being left-handed, it felt to me like I was looking in a mirror.'
He said that the reason they worked so well together was because they had grown up together, and therefore had 'developed a way of working'. Such was his fondness for that method that when it came to writing his final album of the 80s, Flowers In The Dirt, with Elvis Costello, he did the same.
Speaking to DJ Matt Everitt on BBC Radio 6 Music, he said: 'But it was a great way to work and because we were kids together, and we'd known each other since our teenage years, we'd developed a way of working that would be one of us would start an idea, and the other one would spin off it.
By: Laura Lambert
Source: The Daily Mirror