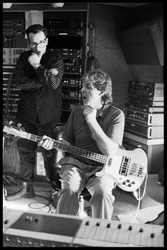 For Paul McCartney, it was an all-too-familiar feeling. There he was, paired with an acerbic, rough-voiced co-writer with Liverpudlian roots, sitting face to face as they strummed acoustic guitars, finishing each other's musical phrases and lyrics, singing in comfortable harmony. "We would write in the same method that me and John used to write," says McCartney, recalling his wildly productive late-Eighties collaborations with Elvis Costello. "I figured, in a way, he was being John. And for me, that was good and bad. He was a great person to write with, a great foil to bounce off, but here's me, trying to avoid doing something too Beatle-y!"
Those sessions, at McCartney's rustic Hog Hill Mill Studio in East Sussex, England, were intended to yield songs for what became the ex-Beatle's 1989 album Flowers in the Dirt, an Eighties high point. Four tracks, including the playful duet "You Want Her Too," ended up on that LP, two on McCartney's next one (1993's Off the Ground), and the rest on Costello's albums – most notably the hit single "Veronica."
But as an upcoming box-set reissue of Flowers in the Dirt reveals, the collaborative recordings – rough acoustic versions (long circulated as coveted bootlegs) and, later, full-band Costello-McCartney versions – stand on their own as an extraordinary document of a partnership that was probably too perfect to last. "It moved me forward, and it moved him forward," says McCartney, who's equally proud of other Flowers tracks, like the uncharacteristic blues funk of the Trevor Horn–produced "Rough Ride." "That's the best you could hope for. I don't think either of us thought we were gonna become Lennon-McCartney Part Two."
By: Brian Hiatt
Source: Rolling Stone