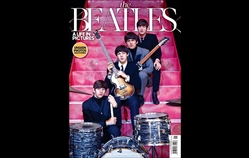 Another week, another essential new mag from the Uncut stable. Following the success of our David Bowie: A Life In Pictures (which you can still buy here), our next special is The Beatles: A Life In Pictures, an extravaganza of rare and in some cases totally unseen photographs, stylishly presented in a mirrored cover. It goes on sale this Friday in the UK, but you can already order The Beatles: A Life In Pictures from our online shop.
John Robinson, who edited this one, can explain more…
"The Beatles: A Life In Pictures is a lavish tribute to the four lads who shook the world. Fashions come and go, but The Beatles still amaze us with their music.
Fifty years on from their classic album Sgt Pepper's Lonely Hearts Club Band, their stature is completely undiminished, and this fresh new selection of pictures – many seldom-seen; some previously unpublished – tells their story, and helps to explain some of that enduring appeal.
Source: uncut.co.uk